What started out as a nice day to ride, turned into a wet mess! Five of us left Gabriel's at Marion for a ride to Roanoke for lunch. Here we are getting off our bikes at Nick's Junction, Roanoke, Indiana.

(Click on pictures for a larger view)


After lunch, we rode east and south of Roanoke, trying to get around a large rain cloud we could see in the western sky. Merle led us as far away from the black cloud as he could, all the way east to State Road 1. We then turned south through Ossian and Bluffton. The sky got darker and lightning started lighting the sky in the west. Soon after leaving Bluffton, on Indiana 124, we rode into the rain. Merle started leading us onto county roads going south, but to no avail. The skies started to open up, and the wind was blowing over 40 mph. We rode south pass Southern Wells High School, for a while, and then Merle spotted The Wells County EMS building, and we pulled in.
We stood in front of the overhead doors and watched "Mother Nature" do her worst. The wind whipped so hard the power lines in front of the building, where we stood, struck each other, blowing out two power line transformers in front of us, taking out the power to the houses nearby.
After waiting for 30 or 40 minutes, the fury of the storm dropped down so that we could continue on home in a light rain. As we neared Marion, I saw the storm knocked out the power to the traffic lights near I-69. Nearing home, tree limbs were down all over Marion. The power was off when I got home. I took all my wet clothes off as soon as I walked in the back door, and put them in the clothes washer as, they, as well as me, was soaking wet! What an adventure! It makes you feel alive riding in a hard rain, the wind trying to blow you off your bike, and the lightning lighting up the sky!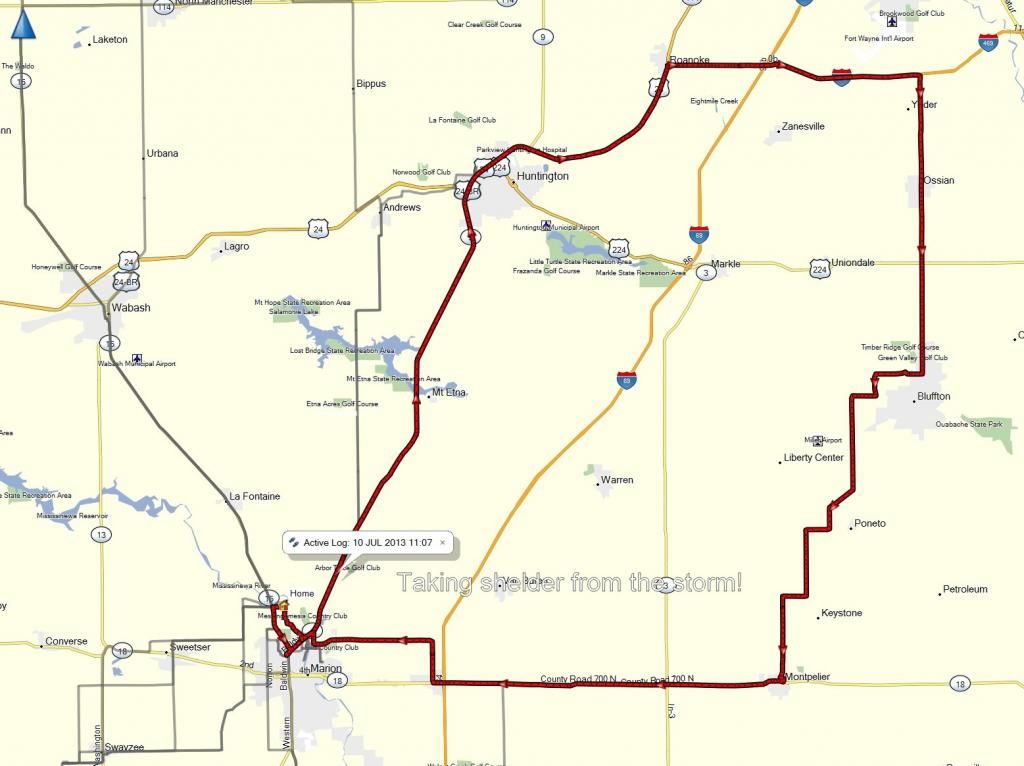 Five of us rode today...Merle Combs, Larry Davis, Jerry Cole, Charles Thomas, and Billy Niverson.
I rode 109 miles today.